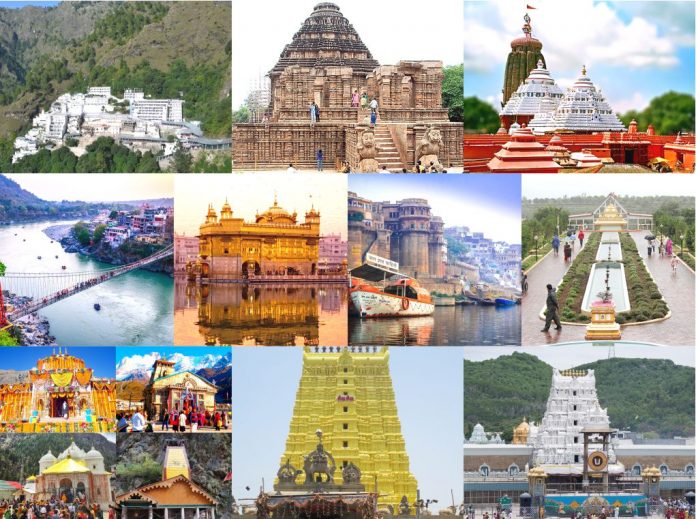 India, the land of temples is reckoned for its immense divine ambiance where a religious tour can leave you spellbound with the charm of religious significance in the country. Also called the "Land of Faith", India boasts a cluster of temples located in different corners of the country and holding great spiritual significance all across the world. Also, there are various pilgrimages in the country which are not so easy to cover and require a lot of physical as well as mental strength viz. Amarnath Yatra in Jammu and Char Dham in Uttarakhand are the top 2 destinations that require proper planning to get completed successfully.
Check out the list of some most happening and popular religious destinations in India where one must visit at least once in their lifetime to meet his/her inner soul by dipping completely into the divine aura.
Vaishno Devi Temple, Jammu, and Kashmir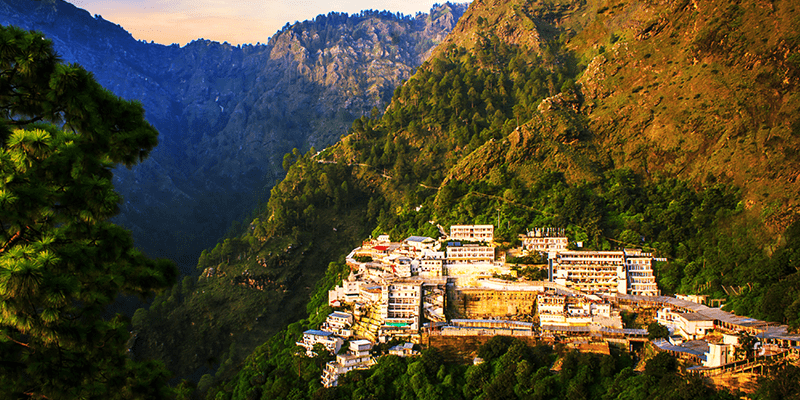 On the Trikuta Hills in Jammu, Vaishno Devi shrine is dedicated to one of the most important incarnations of Goddess Durga where millions of devotees flock in a year. There is a belief in Hinduism that Maa calls her devotees from high up in the mountains where one can reach after covering the arduous trek that takes you to the holy caves where the deity resides and bestows her endless blessings. Besides pervading divinity the journey also offers you with thrilling adventure, and panoramic landscapes and this all makes this yatra etched in your memories forever.
Sun Temple Konark, Orissa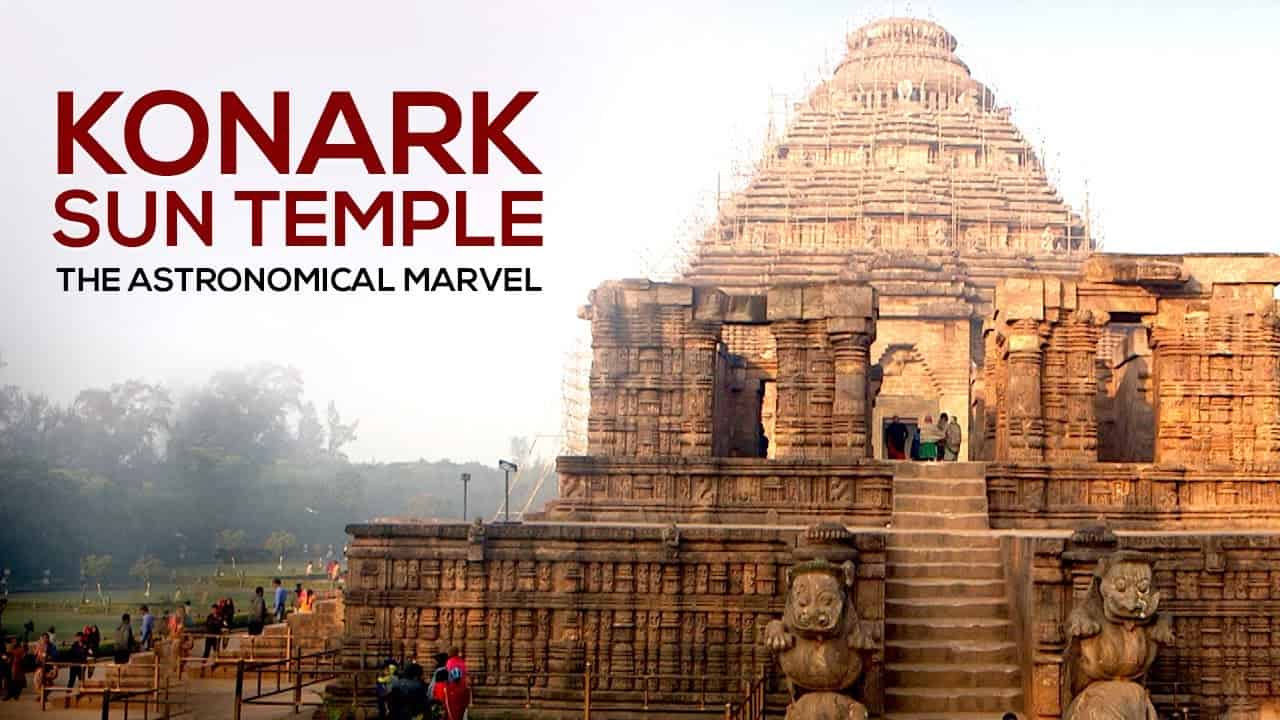 Of the finest examples of ancient India architecture, Sun Temple in Orissa is dedicated to The Sun God where he is sitting on a magnificent chariot. This chariot represents the victory of King Narsimhadeva I who had defeated various Muslim invaders. This stunning masterpiece of Indian architecture is adorned beautifully with 12 pairs of carved wheels, an imposing pyramidal roof, a huge hall for offering prayers, and erotic scenes depicted on the walls are the key attraction of this temple. Sun Temple Konark is reckoned to be one of the most happening destinations to be explored on a religious tour in the country.
Also Read:- Best Religious and Pilgrimage Destinations in India
Jagannath Temple in Puri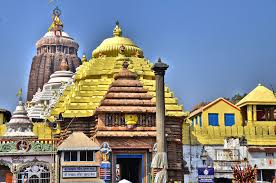 Of the finest examples of architectural grandeur in India, Jagannath Temple is dedicated to Lord Jagannath. This majestic temple in Orissa welcomes millions of tourists every year, especially during the annual celebration of Rath Yatra in which thousands of tourists participate from all across the globe. The amazing architecture of this shrine represents the authentic reflection of Indian culture. Although the abode is devoted to Lord Jagannath yet one can pay homage to Lord Balabhadra and Goddess Subhadra.
Rishikesh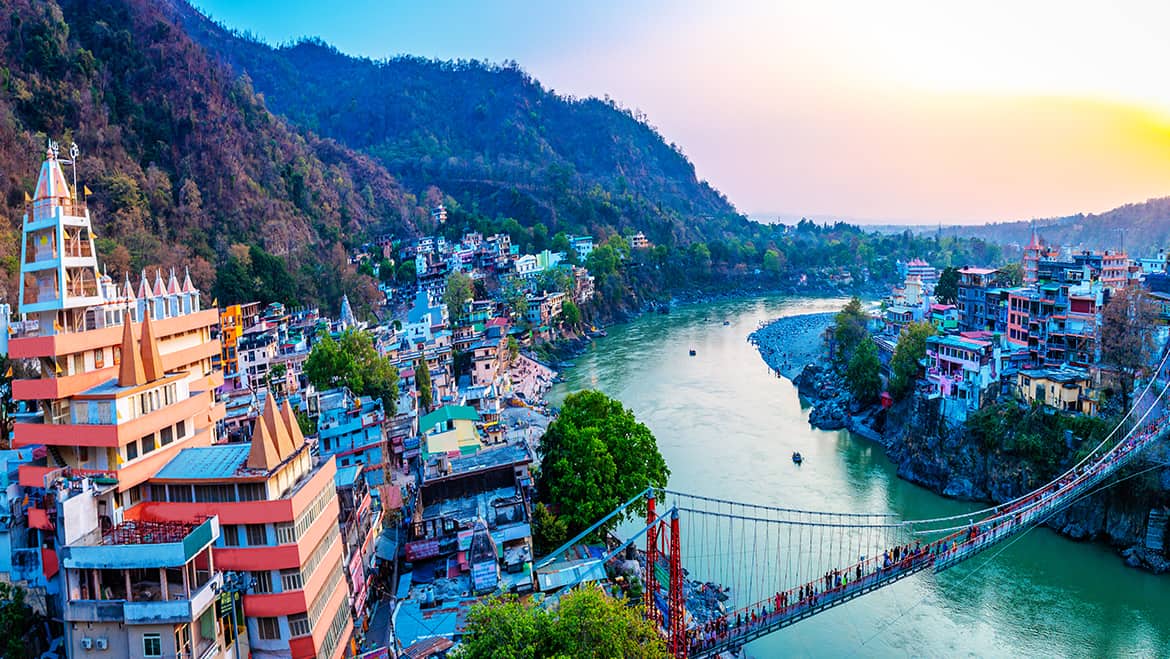 Is no other sacred destination in India like Rishikesh which boasts a cluster of temples standing in a row and the city is also surrounded by several divine ghats. Nestled across the holy Ganga River, Rishikesh is one of the most popular pilgrimages and religious places in Rishikesh which one must not miss visiting on their Uttarakhand tour. Kunjapuri Temple, Bharat Mandir, Sri Trimbakeshwar Temple, Swarg Ashram, and Neelkanth Mahadev Mandir are the temples you can visit here. How can we even forget discussing the two magnificent iron bridges Ram Jhula and Lakshmana Jhula, the two iconic attractions of this religious spot?
Golden Temple, Amritsar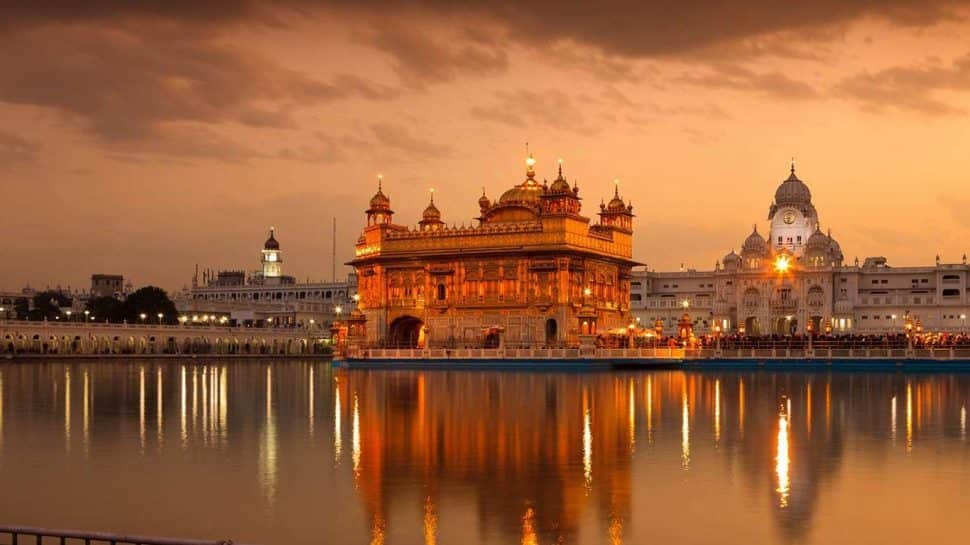 By the fourth guru of Sikhism, Guru Ramdass Sahib Ji, Golden Temple in Amritsar is another popular pilgrimage place in India where devotees flock in thousands of numbers to attain deep serenity and peace of mind by sitting in the peaceful environment of the destination. There are numerous historical events associated with the origin of this pious place and this makes it a significant destination for Sikhism. There is nothing sort of legacy in India like the Golden Temple in Amritsar which brings incomparable peace. Its golden edifice makes it more charming and important in the list of must-visit religious destinations.
Varanasi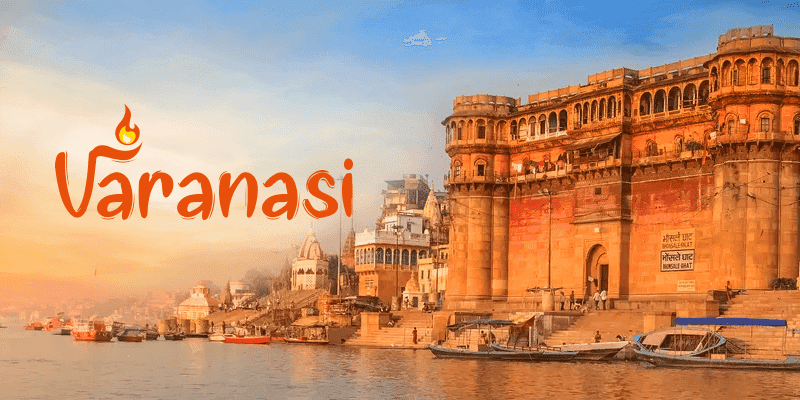 On the riverbank of Ganga, Varanasi is one of the ancient cities in the world which boasts a plethora of sacred spots. This old city doesn't hold a great place in Hinduism only but also in Jainism and Buddhism as the city is studded with Jain as well as Buddhist sites too. Kashi Vishwanath Temple is the major attraction of Varanasi which is believed to be one of the prime destinations of Shiva worshipers where they can seek the blessings for lifelong prosperity and wealth. Parshwanath Jain Temple, Durga Mandir, Kaal Bhairav Mandir, Mrityunjay Mahadev Mandir, etc. are some of the most popular temples in the city where devotees come to fulfill their wishes. Also taking a dip into the holy river Ganga make them free from all their committed sins.
Also Read:- Pilgrimages in India that Combine Spirituality and Beauty
Shirdi, Maharashtra
To the respected saint Sai Baba, the holy shrine of Shirdi is situated in Ahmednagar district in the state of Maharashtra. This is believed to be one of the temples where devotees flock in high numbers to pay their offerings to Sai Baba. This is believed to be the place where saint Sai had to spend several years of his life and this makes it an important religious destination. Samadhi Mandir, Dwarkamai, Shri Sai Baba Sansthan Temple, etc. are some of those places which can be visited in this Sai Nagri.
Char Dham Yatra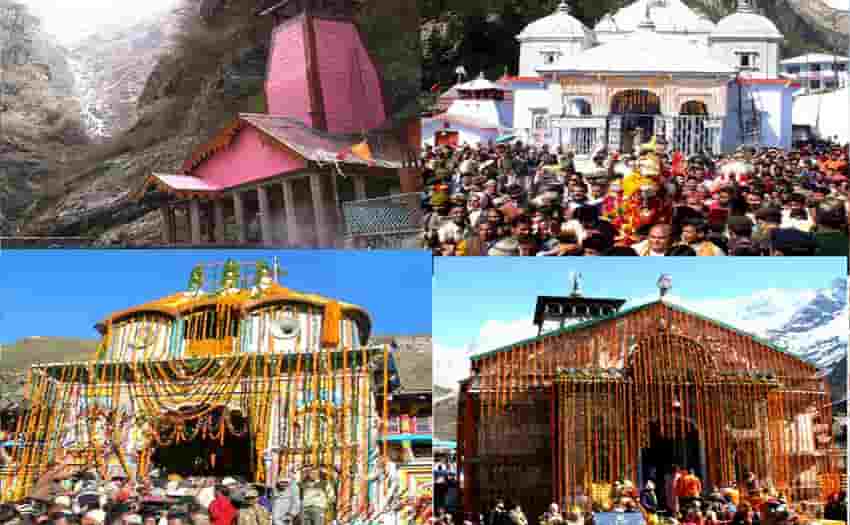 Dham in India constitutes of four holy shrines located in four different states of the country viz. Dwarka in Gujarat, Rameshwaram in Tamil Nadu, Puri in Orissa, and Badrinath in Uttarakhand. Also, if we talk about Chota Char Dham in Uttarakhand then these shrines are also located in four different directions of the state and are dedicated to different deities. Kedarnath, Badrinath, Yamunotri, and Gangotri are the pilgrimages where a devotee embarks on Char Dham Yatra. Char Dham in Uttarakhand is not an easily accessible pilgrimage and everyone cannot complete this journey this is why this is believed to be one of the most challenging pilgrimages in India.
Also Read:- Holiest Pilgrimages in India That You Must Do Once in a Lifetime
Rameshwaram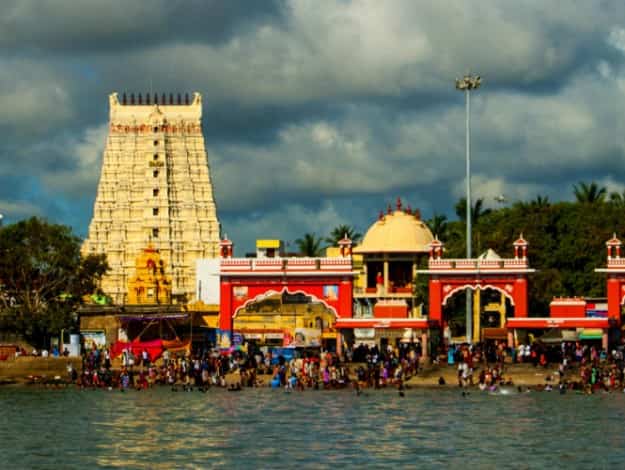 Are numerous mythologies and interesting stories linked to this temple and so if you want to learn about the importance of this sacred place then check it in various holy epics. Besides this gorgeous temple, Rameshwaram is also popular for various other landmarks including Adam's Bridge, Palk Strait, etc. This holy town in Tamil Nadu holds great importance in Hinduism as this is believed to be the place where devotees come to wash away all their sins and Ramanathswamy Temple is the iconic attraction of this holy city which is enlisted as a major pilgrimage in Char Dham circuit.
Tirumala, Venkateshwara, Tirupati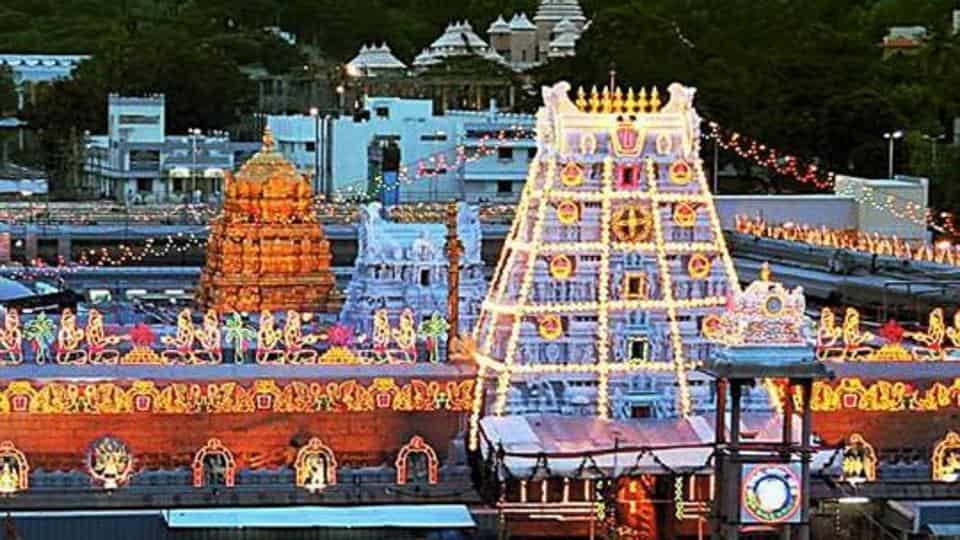 Balaji Mandir is what the ancient city of Tirupati is famous for. This hugely spread temple is dedicated to Venkateswara, an incarnation of Lord Vishnu. According to the temple tourism report, the number of devotees visiting this shrine reaches to almost 1,00,000 every day. Laddoo Prasadam is offered to the deity here and then the same is taken back as the blessings of Lord Venkateshwara. If you are planning to visit this temple then I would recommend you to plan your visit in the month of October when you can witness the pleasant weather and can also participate in the Brahmotsavam Festival.
Is a huge country and there are numerous temples located in different cities of this country it is not easy to compile all of them in one article so the article only contains those which are flocked in huge numbers.