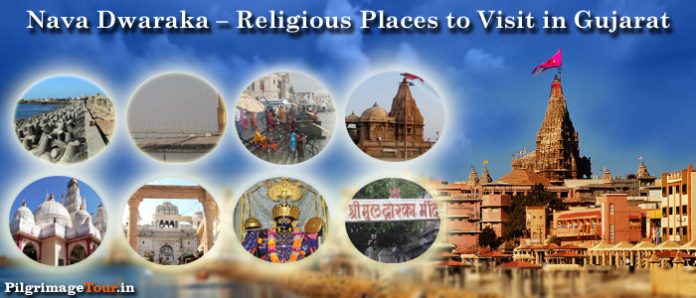 As most Hindus know Dwarka is one of the 108 Divya Desams. Dwarka manifests itself in 9 forms and not the standard 5 forms that most people know about. The 5 dwarkas have been much talked about and the significance of a visit to all the 9 Dwarkas has been lost in translation. Here is a clear picture of all the 9 dwarkas or the Nava Dwaraka and their significance, history and religious connotations. It's better to begin the yatra from Ahmedabad as then you will be able to visit all 9 places in logical order.
Places to Visit in Nava Dwaraka
1. Dwarkadhish Dwarka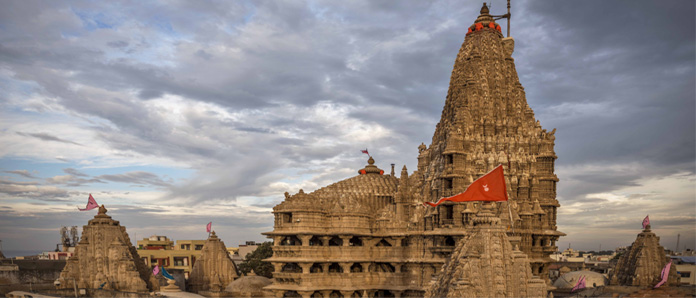 Dwarkadheesh Dwarka is the principal temple of Sri Krishna… it is the principal temple situated by the creek of Gomti and is also known as Jaga mandir or the universal shrine. Vajranabh who was the great-grandson of Krishna built this temple 25000 years ago and the beautiful scripture seems to raise up straight from the Arabian Sea…the temple shikhar is 43 m high and the huge flag there is made from 52 yards of cloth. There are two gates to the temple …swarga dwar (entry gate) and Mokshaa Dwar (exit from world). Inside there is a bejeweled colorful idol of Swarkadish amidst heaps of incense, flowers and Prasadam.
2. Gomti Dwarka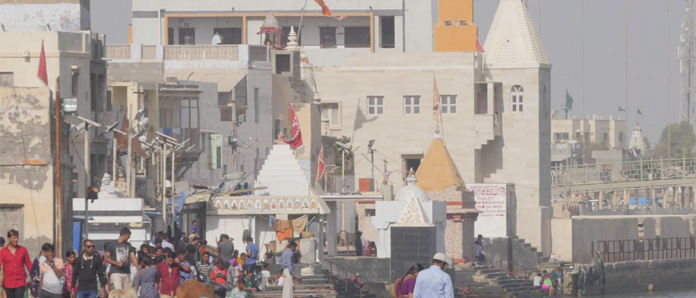 Gomti River is mentioned several times in Krishna Leela. It is the river Gomti that served as a picturesque backdrop when Krishna performed Raas Leela with his Gopis or when he sat romancing Radha. Apart from this the Goddess Gomti (the presiding deity of the river) is revered by the locals as Gomti Mata and the shrine dedicated to her on the river bank is considered to be very auspicious.
3. Rukmini Dwarka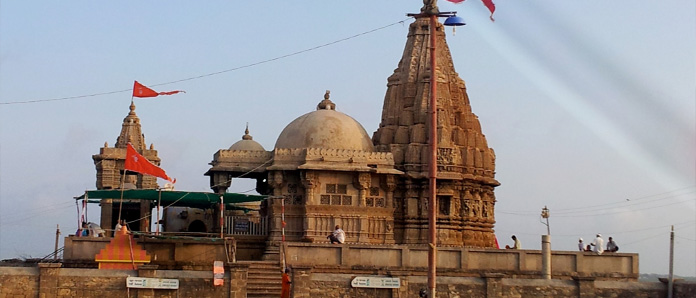 Rukmini (one of the forms of Lakshmi Mata) was also the wife of Rukminishna. After much opposition and swordfights, Rukmini married Lord Krishna in a beautiful temple. It is said that many couples in this modern age come to the Rukmini temple to get married…the rukmini temple is situated at a distance of 2 miles from the principal temple. This is one of the few temples in India that celebrates the existence of Devi Rukmini as most other places bear statues of Radha (another incarnation of Mata Lakshmi and the companion of Krishna).
4. Bet Dwarka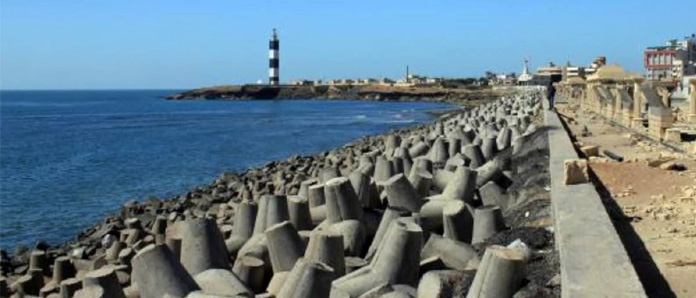 Bhet Dwarka is a lovely island which can be reached by opting for water transport from the Port Dwarka. Legends say that Lord Krishna loved this island and made it his ruling headquarters…thereby spending a lot of time there…watch out for the many Samadhi's on the Bet Dwarka Island…you will find graves of some royal members of the Yadav clan including Devaki who was Krishna's biological mother. There is an ancient lounge and couch there which was the seat of Sri Krishna and his queens who served upachara/ medication to the needy and infirm Kuchela… the island is very beautiful and the Arabian Sea surrounds it from all sides. History says that there were many other dwarkas but some of them were swallowed by the sea.
5. Sudama Dwaraka (Sudama Setu)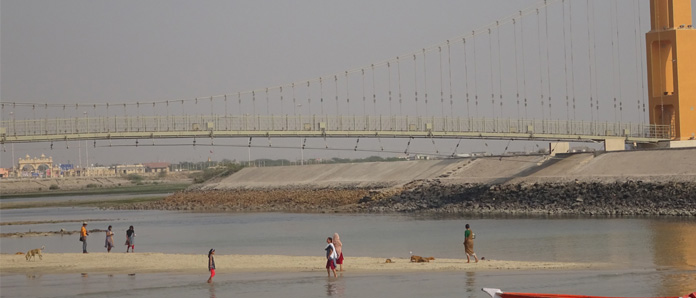 Followers of Lord Krishna are aware of the importance of Sudama who was Krishna's dearest friend and companion…Sudama Dwarka is also known as Sudama Puri and Kuchelapatnam…you will find it on any standard map as Porbandar. Incidentally, Porbandar is famous for being the birthplace of the father of the nation i.e. Mahatma Gandhi.
6. Moola Dwaraka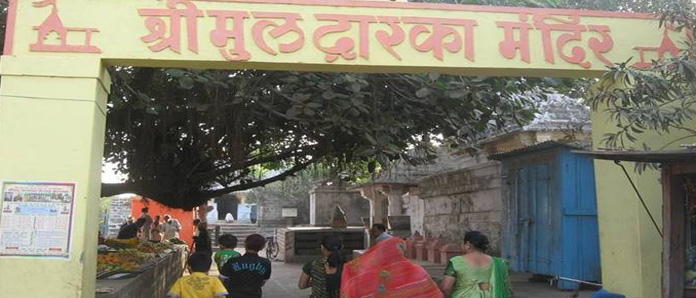 One of the most neglected Dwarka's Moola Dwarka seems to have been abandoned by both Gods and men. To see Moola Dwarka, one has to travel to Kodinar from where one has to take a jeep to the Ambuja Cement Factory. The jeep ride is dusty and jeeps are open air. A footpath leads up from the factory up a small hillock where an ancient temple is perched. There is a large stone slab there signifying the spot where Krishna has set foot when he first arrived in Dwarka. The priest there is very knowledgeable but will hardly be found inside the temple premises.
7. Nathdwara Dwaraka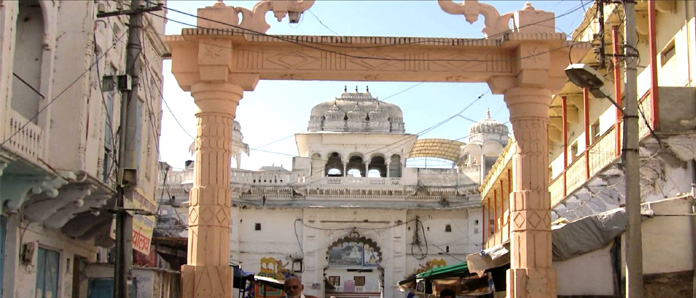 Nathdwara is another much revered Dwaraka situated in Rajasthan's Udaipur city. It is famed enough for the temple of Shrinath ji who is non but Lord Krishna in his infant avatar. 7 year old lad avatar of lord Krishna is admired by his devotees most lovingly.  This temple dates back to the 17th century and is believed to have been built under the orders of lord Shrinath ji himself.
8. Dakor Dwaraka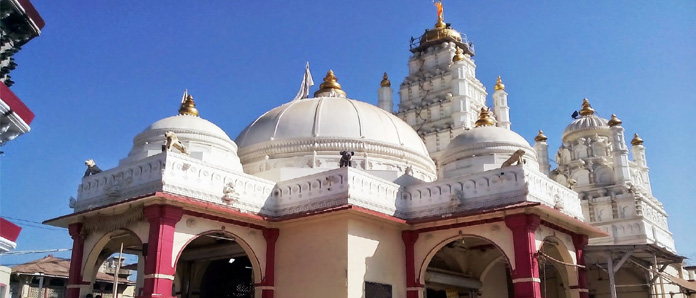 This is another significant Dwarka that's situated near Nadiad that's 60 miles away from Ahmedabad. The temple here is reminiscent of the majestic Guruvayoorappan temple in Kerala with its intricate carvings and rich illustrations. There are lovely large statues of Krishna in his full glory here.
9. Shrinathji Dwarka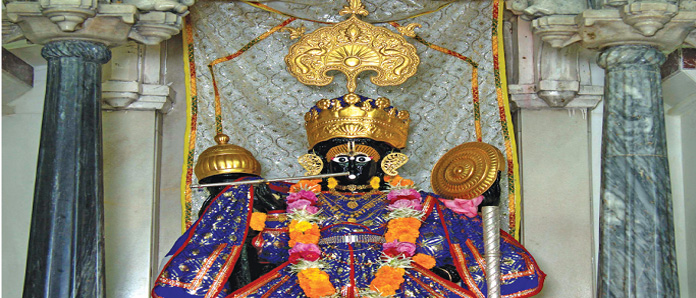 The last of the dwarkas is in Udaipur City which has to be approached by train/ bus/ private car. It's sad to see that virtually no transportation is available from Malvi to the temple which is inside a convoluted web of lanes. Inside the temple, you can perform a special Puja after which you will be offered yellow silk robes or the parivattam while the delicious puja bhog is known as Tiruppaniyaram.
Popular Tour Packages