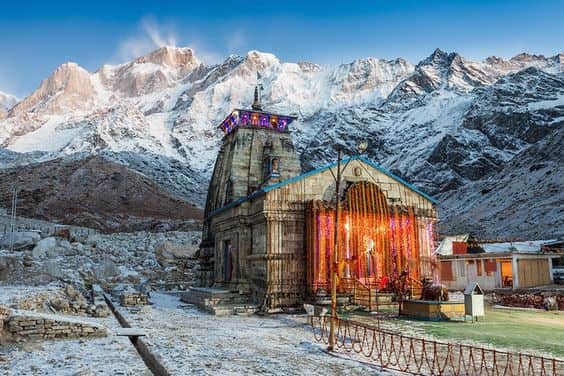 Kedarnath is a spiritual abode of Lord Shiva perched at an altitude of 3,581 above the sea level in the Rudraprayag district of Uttarakhand. It is also counted among the four sacred pilgrimage circuit of Chota Char Dham and one of the twelve Jyotirlinga for which millions of devotees embark every year. There are many spiritual beliefs tied to the popularity of Kedarnath all over India as many believe that if a person visits this temple once in a lifetime then, he/she is presumed to attain salvation after death and Lord Shiva answering his devotees' prayers is also considered one such belief.
According to India's famous Hindu Mythology, it is believed when Pandavas fought against Kauravas in the famous battle of Mahabharata, they killed many of their kin. So, to ask for forgiveness for their grave sins, they came to this place seeking forgiveness from Lord Shiva but he learnt about Pandavas motive beforehand. And went into hiding from them but however, Lord Bhima caught him by his tail and after that, the place became a very holy place which seemed to possess some mystical spiritual aura.
The last region for Kedarnath is Gaurikund and from there, you have to walk about 16 km to reach the temple premise. So, before indulging yourself in this adventure, perform some daily exercises to keep you physically fit. If you have wish to cover this journey by helicopter then, you can also book Kedarnath Yatra By Helicopter.
Best time to visit
Because Kedarnath is located somewhere deep in the Himalayan region of Uttarakhand, so the region receives heavy rainfall during winters and making it very inaccessible to reach at that time period. During Monsoon, it is advisable to avoid going on Kedarnath journey because you may feel a lot of discomforts.
So, the ideal time to embark on Kedarnath journey is from April to June and September to October.
How to reach
By Air: – The nearest airport to Kedarnath is Jolly Grant Airbase in Dehradun and from there, you can either book a cab or can also hop on a Volvo bus to reach Kedarnath base camp i.e. Gauri Kund.
By Train: – When you choose train as your mode of transport then, book a ticket to either Dehradun Railway Station or Haridwar Railway Station. On reach either of these stations, you can take a bus to reach Gaurikund.
By Land: – Driving to Kedarnath by your own vehicle or taking a bus are also two of the very wonderful idea to go by. Because the road journey to this place is itself very exhilarating and full of beautiful landscapes.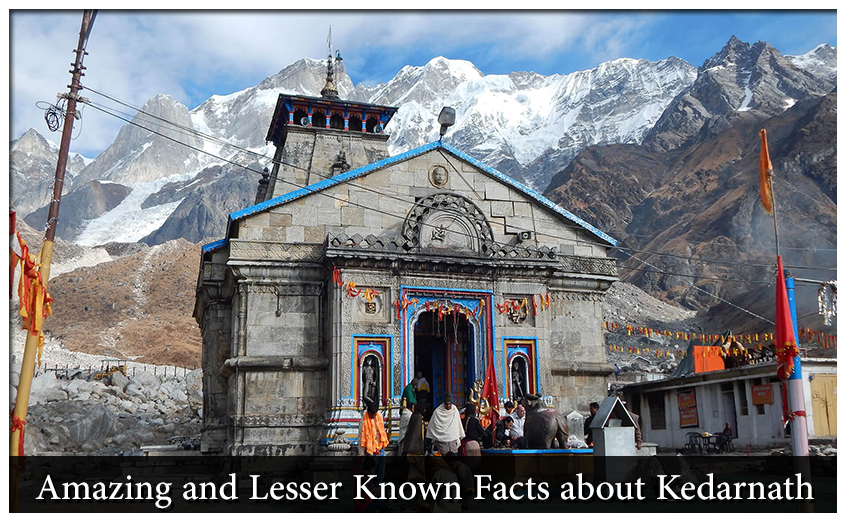 Darshan Timings
Kedarnath temple door open for visitors at 6:00 AM and around 3 to 4 PM, a very special Aarti session is performed with which Lord Shiva is worshipped. And shortly after that Aarti finishes, the temple doors are closed for a certain period of time. At 5:00 PM, the temple doors open again and visitors are welcomed. Then around 7 to 8 PM, an evening Aarti is performed and the doors get closed again at 8:30 PM.
Accommodation Facility in Kedarnath
There are number of resting area and guest house options available in Kedarnath for those who want to either book an overnight stay or want to book a place for many days. There are government managed resting areas as well as private stay available in Kedarnath which one can book. Some of those popular options are listed below so, check them out.
1) Char Dham Camps – You can find these Char Dham camps in Guptkashi where you can also enjoy the beautiful Himalayan view in the background. They also serve delicious meals to all their occupants and the luxurious setting would surely lure to book one of these.
2) Hotel Priyadarshini – The hotel is located on the banks of River Mandakini so you won't have to go through much hassle to find this hotel. They offer clean rooms and services at this hotel are also excellent. From vegetarian to continental cuisines, all are available in this hotel and you can book any type of room in here i.e. deluxe, standard, etc.
3) Hotel Marwad House – If you are looking for a place where you can experience a home kind of treatment then, you should go for this place. There are various types of setting available in this hotel room from having a room with two beds to room with four beds. It will also offer you a very clean treatment at a budgeted price.
4) GMVN Kedarnath – GMVN is the best option for those who looking for a clean yet cheap place to spend their overnight stay. The hotel is located near the temple and can be reached very easily. By staying at this place, you can get to spend most of your journey near the temple.
Where to eat
There are some very famous places where you want to eat in Kedarnath. Many popular eating places are listed below so, check them out during your journey.
1) Hariyali restaurant – Here, you can enjoy some scrumptious North Indian dishes at the cost of Rs 500 for two persons. The restaurant boasts a very beautiful background setting of lush green mountain ranges so here you can enjoy delicious cuisines as well as nature.
2) Mayadeep Restaurant – Mayadeep is another very popular eating joint in Kedarnath where North India, Chinese, and South Indian cuisines are served to their customers. The staff is also very friendly and carefully, managing the soothing ambience inside the restaurant. The cost for two people at this restaurant jumps around Rs 300.
3) Snow View Restaurant – Here you can enjoy North Indian, Chinese, and fast food. So, if you are looking for eating joints where you can eat sandwiches and burgers then, go for this place. The open setting of this restaurant will offer some beautiful landscapes as a treat to your eyes. The cost for two people at this restaurant is around Rs 350.