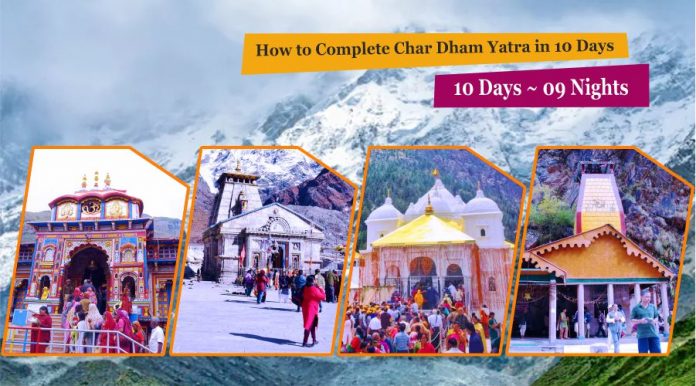 There is nothing wrong to say that India is a land of spirituality as the entire country is packed with religious destinations scattered all around. Char Dham Yatra, is one of the most coveted and cherished dreams of each Hindu devout that they want to cover at least once in their life. Hindus believe that this pious journey makes them free from all the committed sins and blesses them with lifelong prosperity and wealth. Kedarnath, Badrinath, Yamunotri, and Gangotri are the four holy abodes nestled at great altitudes and in different directions. This is an annual pilgrimage that is closed for half of the year as the snow blanket covers the entire region and when the opening dates of the shrines are announced pilgrims lace up their shoes to embark on this journey.
But as the journey constitutes various destinations it takes a lot of time to cover all these sites especially if you are a devotee with a tight schedule then you must need proper planning to complete your yatra within a limited time. If you are also the one who is facing a tight schedule then check out the best-designed itinerary which you can follow to complete Char Dham Yatra in 10 days.
Day 1: Arrival in Haridwar and drive to Barkot
Welcome to the spiritual land of Haridwar! Once you reach Haridwar explore Har Ki Pauri and then get ready to cover the driving distance of 7 hours to reach Barkot, the perfect place for an overnight halt and to proceed towards Yamunotri. There are various decent hotels in Barkot where you can stay at night and can have a night of sound sleep.
See Also: – Some Amazing and Lesser Known Facts about Kedarnath
Day 2: Covering the Trekking trail to Yamunotri
Start your day early morning and leave for Janki Chatti from where the 6 km long trek to Yamunotri commences. On the way, you will be covering Hanuman Chatti and Phool Chatti reckoned for their scenic vistas and challenging trek routes. Once you are done with the trekking routes then take a dip into the holy hot thermal spring before you enter the sacred shrine of Goddess Yamunotri. The holy Surya Kund, Divya Shila, and Hanuman Chatti are some of the other major attractions beside Yamunotri Temple. After exploring these spots drive back to Barkot for the night's stay.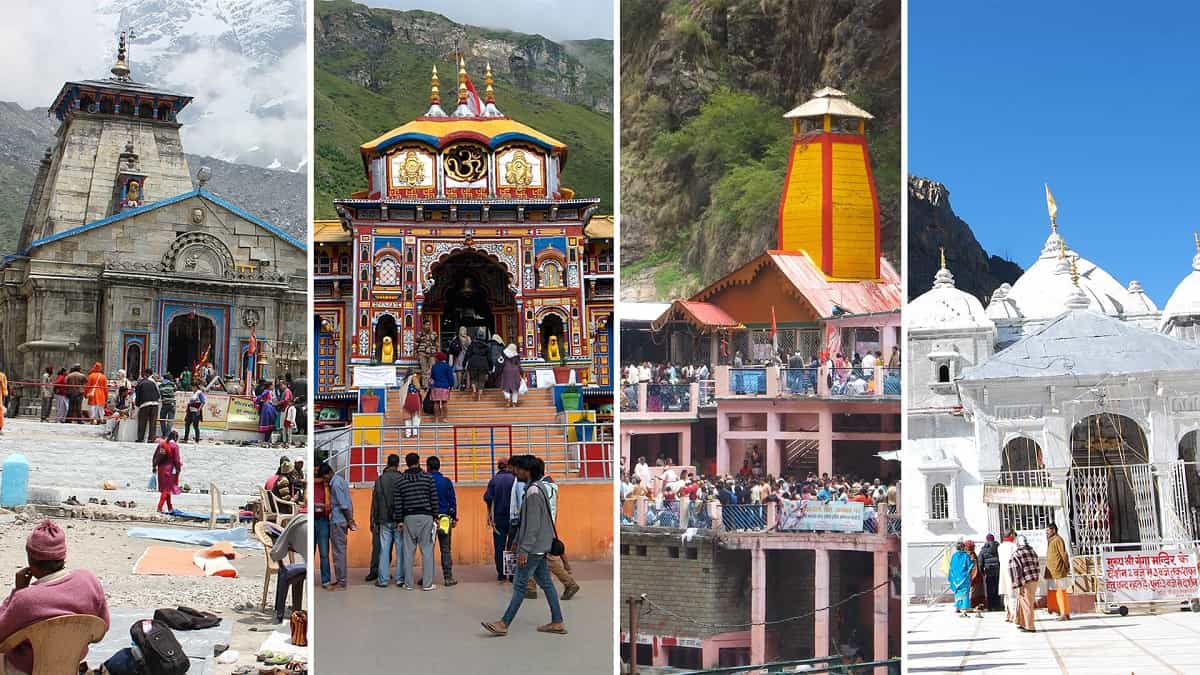 Day 3: Head Towards Uttarkashi
Plan your third day of the trip to explore Gangotri, the next destination of the circuit. To visit this holy shrine continue your drive towards Uttarakashi. While driving towards Uttarkashi make your halt at the Prakateshwar Caves which are dedicated to Lord Shiva and are constructed with limestone. On reaching Uttarkashi make your visit to the pious Kashi Vishwanath Temple. The destination is packed with various staying options ranging from starred hotels to normal hotels and Hotel Jahanavi, Divine Palace, and Hotel Shivlinga are some of the most popular places to stay in Uttarkashi.
See Also: – Pilgrimage Attractions En-route to Chardham Yatra
Day 4: Reaching Gangotri
Unlike Yamunotri, you don't have to cover the challenging trekking trail to reach the holy shrine of Gangotri. Take a dip into the holy Ganga River as per the belief in Hinduism that it washes away all your sins. After the holy dip proceeds towards the temple and pay your offerings to Goddess Ganga and then post completing the Puja rituals move back to Uttarkashi.
Day 5: Exploring Guptkashi
Get ready to enjoy the enthralling travel experience to Kedarnath which is located at the highest elevation amongst all pilgrimages in the circuit and this is the way the journey to Kedarnath is divided into two different steps first is driving towards Guptkashi from Uttarkashi. Guptakshi is the first half of the way to Kedarnath where you reach after covering a driving distance of almost 10 hours. Once you are at Guptkashi you get the beautiful chance to witness the charm of the majestic Chaukhamba Peak and this halt to Kedarnath offers you various staying options. Spend your night at Guptkashi after visiting two famous temples in the region i.e. Ardh Narishwar Temple and Vishwanath Temple.

See Also: – Best Religious and Pilgrimage Destinations in India
Day 6: Covering the trekking trail to Kedarnath
Today you will be following the second step to reach Kedarnath Temple, one of the prime destinations of Shiva worshippers. Early morning set out of the hotel and reach the point from where the trek to Kedarnath starts after covering this arduous and difficult trek enters the shrine and complete the puja rituals and after seeking the blessings of Lord Kedar come out of the shrine and spend some time in the vicinity of the destination which is dipped in the serene and tranquil aura and each touch of air fills you with spirituality.
Day 7: Drive Towards Rudraprayag
Now 4 days are left in your hand and you are left with 1 more destination to visit. On the seventh day of the trip after paying a morning visit to Lord Kedar start driving towards Gaurikund from where you need to cover the driving distance of 4-5 hours to reach Rudraprayag, the holy confluence of River Alaknanda and Mandakini. Rudraprayag is believed to be the best halt for those who are approaching either Kedarnath or Badrinath as this halt is packed with several staying options for the pilgrims.
See Also: – Pilgrimages in India that Combine Spirituality and Beauty
Day 8: Finally you are at the Last Destination of Char Dham Yatra
It is always advisable to leave early morning for Badrinath Temple if you don't want to stand in a long queue waiting for your turn. You must be aware of the mandatory ritual of Badrinath Dham that before entering the temple you are required to take a holy dip into the Tapt Kund. After seeking the blessing of Lord Badri (an incarnation of Lord Vishnu) you can visit some other nearby temples and scenic destinations including Vyas Cave, Mata Murti Temple, Narad Kund, Bhim Pul, and Mana Village (the last Indian Village located on Indo-Tibet border).

Day 9: Relaxing Time
So, finally, you have covered all the holy destinations so start driving towards Rudraprayag from where you can board the transport to explore the sightseeing destinations where you can get some relaxing and revitalizing moments after 9 days long tight schedule.
Day 10: Say Goodbye to Uttarakhand
This is the time to say goodbye to this divine and peaceful state as this is the final day of your trip and you have finally completed your dream of Char Dham Yatra even after having a tight schedule. I hope this itinerary works fruitfully for your trip.
Note: Sightseeing destinations which you cover depend on your preference and time so there is no mention of a particular place.