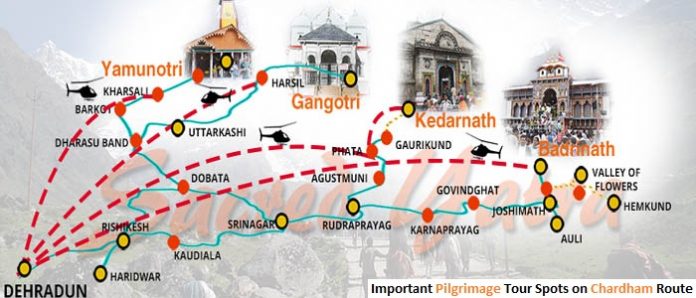 Uttarakhand, a beautiful state in India is popularly known as "Devbhoomi" meaning "The Land of the Gods" it is serenely beautiful and is rich in its natural environment like the Himalayas. Amongst different pilgrimage destinations, it is the "Char Dham Yatra" which is the most spiritually rewarding and conducive to harmony and serenity. It is believed that a person who completes the Char Dham Yatra once in his lifetime achieves salvation. During this Char Dham tour, different spiritual destinations can be visited right from the starting point to end point. It's important to have proper knowledge of the Chardham route of these destinations so that you can include them in your pilgrimage checklist.
Routes of Char Dham Yatra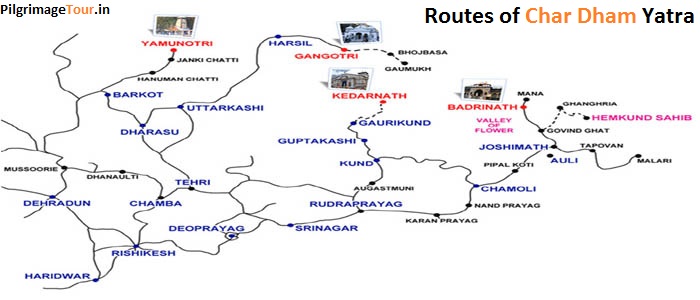 Char Dham Yatra usually starts from the holy dip, in the sacred water of Haridwar, to purify pilgrims for their future trip. From Haridwar, there are two routes to reach Gangotri and Yamunotri. The first route is one which goes via Dehradun-Mussoorie-Barkot and the second route is through Rishikesh – Uttarkashi. Some famous temples in Rishikesh and Haridwar area:
Haridwar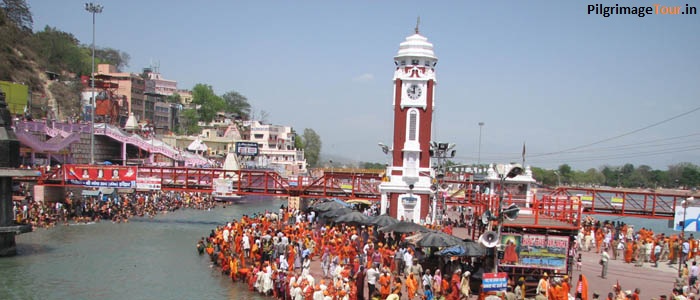 Har Ki Pauri is a divine place where thousands of people take a dip in the holy waters to relieve themselves from past sins. A grand aarti is performed in the evening, along with Vedic chants and prayers recital in the Ghats of the Har Ki Pauri. A sacred temple of Goddess Manasa Devi can be seen on the hilltop you can reach this temple through a cable car. Devotees visit this temple for wish fulfillment. Chandi Devi temple can be reached by bus from the Manasa Devi. It is located in Neel Parvat.
Rishikesh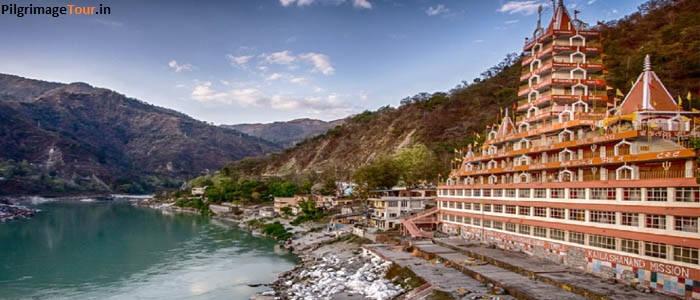 Neelkanth Mahadev Temple is the place where Lord Shiva consumed poison which originated from "Samudra Manthan". After consuming the poison, the throat (Kanth) of Lord Shiva changed to blue (Neel) and thus the name Neelkanth. Trimbakeshwar temple is one of the most famous temples having 13 different forms of Lord Shiva. Triveni Ghat as the name suggests is the merger of three rivers Ganga, Yamuna, and Saraswati.
The must visit places which crop up in between the first route i.e. Dehradun – Mussoorie – Barkot are detailed below.
Dehradun – Mussoorie – Barkot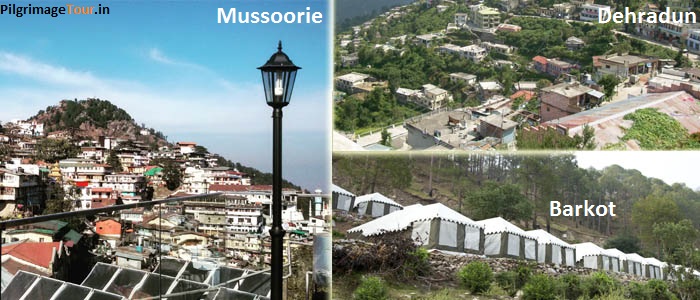 Lachhiwala, Sahastradhara and Robber's cave, are some spots to visit in Dehradun. Places in Mussoorie are Kempty Falls and Mussoorie Lake. An old Shiva temple is a chief tourist attraction here. Places which are to be seen in Barkot include Hanuman Chatti and Janki Chatti. The actual climb to reach Yamunotri starts from Janki Chatti. The distance from Barkot to Yamunotri is 6 kilometers. You can hire palanquins and ponies if you are not comfortable traveling by foot. On the way, you will reach a small town Kharsali. An old Shani temple is situated here. During winter, when the Yamunotri temple is closed, the idol of the goddess Yamunotri is brought to this Shani temple for the pilgrims.
Yamunotri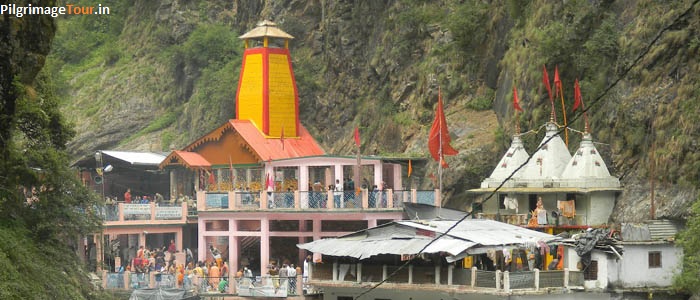 The first of the Char Dham is Yamunotri, a holy dwelling of goddess Yamuna. Here the stories say that, if you take a holy dip in this river you are bestowed with a painless death. Some must-see places in Yamunotri are – Surya Kund is a natural hot spring. Before entering the Yamunotri temple, you need to offer prayers to a pillar known as Divya Shila. Yamunotri temple is well known for its valuable and beautiful silver idol. On the way from Barkot to Uttarkashi fall two major attractions i.e. Champasar Glacier (from where the glacier originates) and Prakateshwar cave (famous for limestone forming Shiva ling).
After praying to Goddess Yamunotri, the pilgrims start their journey to Uttarkashi and prepare themselves for a one day stay and then proceed towards Gangotri. Uttarkashi has two temples, Vishwanath temple, and Shakti temple.
On the way to Gangotri some of the places to see are-Gangani-a water spring have known as Rishi Kundu Tirtha and Harsil-a famous trekking spot. A Shiva temple and an apple orchard are attractions in Dharali. Mukhba Village a destination where goddess Ganga is housed during the winter ….this also falls on the way. Bhairon Temple at Bhairon Ghati is visited by many pilgrims.
Gangotri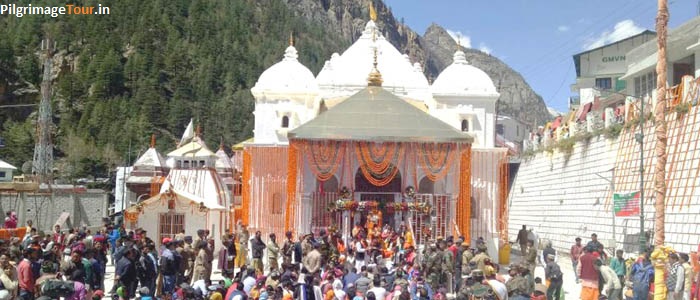 The holy river of the Hindus is Ganga and the abode of river goddess Ganga is the second of the Char Dham called Gangotri. It is believed that Ganga came to this place to forgive the sins of King Bhagirath ancestors. People dip in this holy river to wash away their sins and attain salvation. Some important places in Gangotri are- Gangotri temple, Submerged Shiva linga, and Surya Kund waterfall, Pandav Gufa, Bhagirath Shila, Gaumukh Glacier, Tapovan, and Nandanvan.
After the heavenly darshan at Gangotri, the voyage to the third Char Dham of Kedarnath is initiated. This has two routes from Uttarkashi. The first route is Srinagar-Rudraprayag-Augustmuni-Ukhimath-Guptkashi-Sonprayag-Gaurikund and the second route goes via Gangotri- Uttarkashi-Tehri-Mayali- Ghansali-Ukhimath-Guptkashi-Sonprayag-Gaurikund.
Ukhimath is a place where lord Kedarnath is housed here during winters. Some main attractions of Ukhimath are-Omkareshwar temple, Madhyamaheshwar Temple, and Kalimath Temple. Guptkashi a place on the banks of the river Mandakini, is believed that Lord Shiva hid here in the Mahabharata days in the form of Nandi. Some attractions here are Vishwanath temple, Ardhnarishwar Temple, and Manikarnika Kund. Sonprayag is a place known for holy rivers where Basuki and Mandakini meet. The Triyuginarayan temple which is dedicated to Lord Vishnu is also a prominent attraction that's nearby. Gaurikund, a place from where 20 kilometers trek route to Kedarnath commences, has a famous Gauri temple. Pilgrims take a dip in the Kund before visiting the temple. Kedarnath is situated at a height of 11,700 ft. above the sea-level. Devotees can trek, take palanquins, or even hire helicopters to reach.
Kedarnath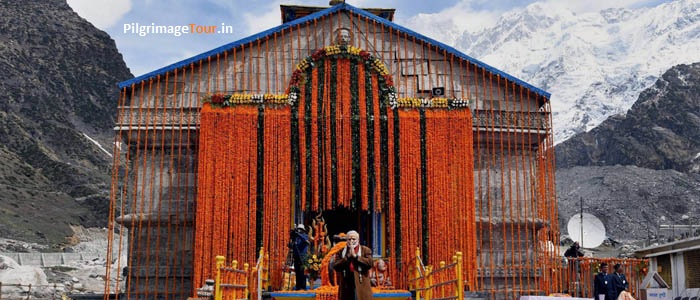 The third Dham of the four Dhams is Kedarnath. It is believed that Lord Shiva appeared before the Pandavas in the form of triangular Jyotirlinga that's now kept at Kedarnath. Bhairav and Vasuki temple that are nearby are a must visit for the devotees.
The first route to Kedarnath is Ukhimath-Chopta-Gopeshwar-Chamoli-Joshimath-Vishnuprayag. The second route is via Rudraprayag-Karnaprayag-Nandprayag-Chamoli-Joshimath-Vishnuprayag skipping Ukhimath and Chopta.
Some places to stop on this route are Tungnath temple, Chandra Shila peak, Gopinath temple, rivers like Alaknanda and Nandini, Narasimha temple and Shankaracharya Math in Joshimath, A Vishnu Kund and a Vishnu temple in Vishnuprayag. Yog Dhyan Badri temple in Pandukeshwar. This temple is one of the "Sapta Badri" temples of Lord Vishnu.
Badrinath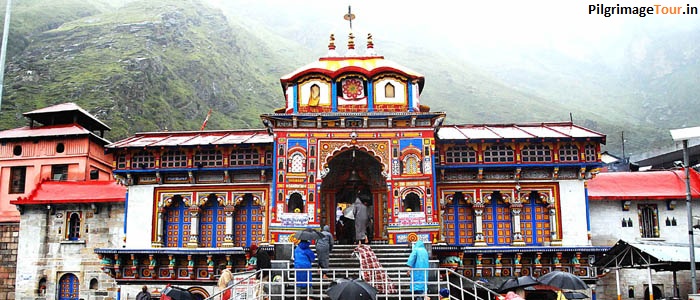 This holy place is dedicated to Lord Vishnu. It is believed that Lord Vishnu meditated at this place and Goddess Lakshmi shaded him from the harsh sun manifesting herself as a berry tree. Berry means Badri in the local language and hence the name Badrinath. Some important places to visit here are- Tapt Kund, Narad Kund, Mana village, Bhim Pul, Saraswati River and Vasudhara falls.
After achievement of the divine bliss of Char Dham, pilgrims make their way back to Rishikesh-Haridwar and they can see some more additional places en-route like-Karnaprayag ( where Karna and Uma Devi temples are situated), Rudra temple in Rudraprayag, Agasteshwar Mahadev temple in Agastyamuni, Kamleshwar Mahadev, Dhara Devi temple in Srinagar and Raghunath temple in Devprayag.
Char Dham Yatra is a flawless way to discover the divine and provides a chance for redemption and activation of the mind and body in every way.