Been searching for the best time to visit Char Dham? As they say, timing is everything. There's a time to travel, there's a time to rest. A time to rush forth and a time to rewind in. And there definitely is something such as the best time to visit Chardham. The four abodes of divinity spread across Garhwal Himalayas remain accessible to human presence only half a year. The auspicious Akshaya Tritiya which falls on the Shukla Paksha and third Tithi of the Vaisakha month as per the Hindu calendar begins the pilgrimage season every year. The chilly weather claims the landscape for itself in her tenure; thereby Diwali marks the closing of Char Dham temples. Thus Char Dham Temples remain open for worship from mid-may till mid-November, i.e., from Akshaya Tritiya till Diwali.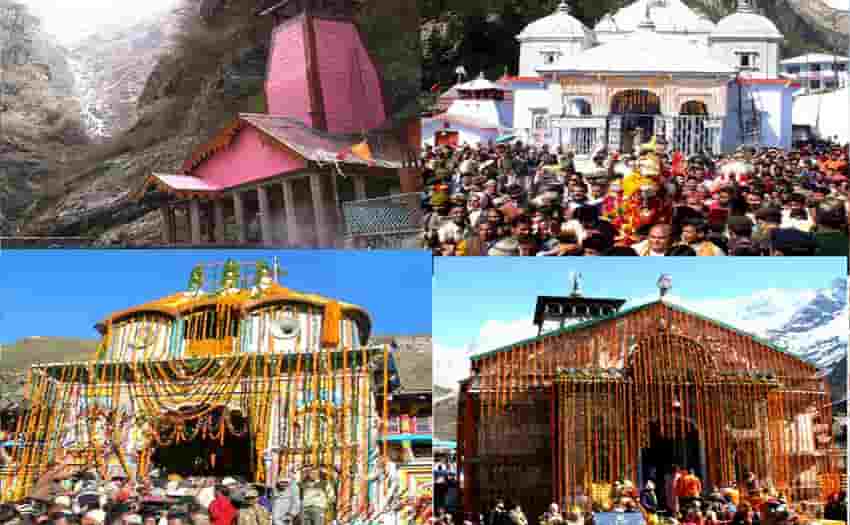 The ideal time to visit Char Dham would be either the summer and pre-monsoon months of May-June or the post-monsoon and pre-winter months of September-October. We would recommend you to avoid traveling during the monsoon months due to higher susceptibility to occurrences of landslides. If you want to avoid the highly crowded pilgrimage season, it might be a good idea to postpone your trips to the second half of the year and wait for monsoons to retreat, gifting you the cool ambiance of pre-winter Himalayas.
Let us elucidate why choosing to travel during the best time to visit Chardham and avoiding it during the monsoon months is advisable.
Safety: – We leave behind our loved ones when we set out to embark on journeys. We might move away from them in bodies, but it is said their spirit accompany us. One of greatest gifts you can give your loved ones while you dip in the numinous environs of the trip are to help them be reassured of your safety. Thus avoiding travel plans during risky monsoon months is advisable.
Avoid Unnecessary Delays: – Travelling during the ideal time for Chardham Yatra pretty much frees you from having to worry over unnecessary delays that might arise due to sudden discrepancies in routes due to the altering moods and hues of Mother Nature.
Avoid Unpredictability To A Minimum: – Unpredictability unnerves us. We human beings always strive to make our future as predictable as possible so as to avoid unnecessary setbacks and disappointments. Choosing the ideal climate to go on Char Dham Yatra helps you in exactly that.
Comfortable Journey: – Well, if given a choice between a comfortable trip and a discomfiting one, rarely would anyone choose the latter, and for good reasons! Travel during the months experienced pilgrims cite as the ideal time to visit Char Dham and enjoy as comfortable a journey as the Divine would let you enjoy!
Now that you have made up your mind to include a visit to the land of devas, Devbhoomi, in your pilgrimage aspirations and have known that the best time to visit Char Dham is either May-June or the post-monsoon Sept-October months, why not let us help you further with customizing the journey just to cater to your needs?